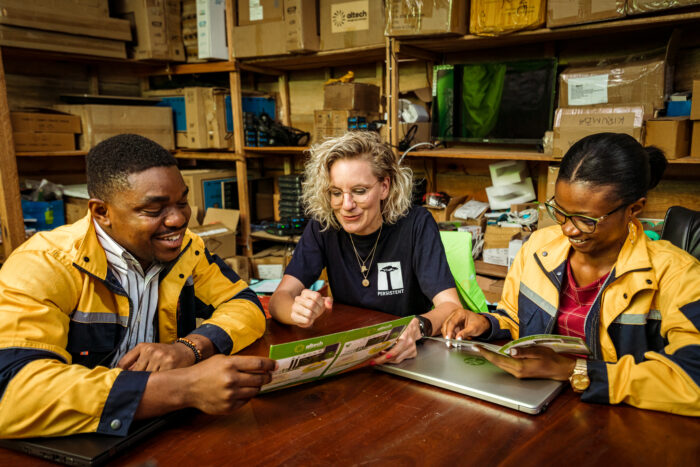 Hey there!
Today, Altech received some great news.  It might not seem all that fun at first glance: repaying a loan to an external lender! But repaying the first loan you ever raised is exciting, so stick with us.
Let`s set the scene. You are two Congolese entrepreneurs who have built a net income profitable PayGo solar business with a national reach in the DRC over the last six years, but you need help to reach your full potential. Why? You have no access to investors, and half the time, your business is out of stock due to a lack of working capital financing. So finally, in September 2020, you obtain your first external loan from SIMA Angaza Distributor Finance Fund!
You are excited and grateful. This loan was instrumental in taking your business to the next level. Less than three years later, you have gone from raising the initial USD500,000 loan from DFF to raising a total of USD30,000,000 in growth capital from different international lenders. In the process, you have faced many challenges while you kept yourself and your team motivated to grow and reach for more. So now you have sold over 350,000 solar energy products, positively impacting more than 1,700,000 Congolese. You operate 140+ shops and six strategic warehouses in 22 out of 26 provinces in the DRC and have created over 4,500 jobs. You have managed to build a successful business, and you have just repaid your first loan to an external lender. That`s no small feat, so you take a moment to reflect, be proud, and thank your partners who believe in Altech`s vision to achieve universal access to clean, reliable energy in the DRC by 2030.
Altech's founders Washikala Malango and Iongwa Mashangao, would like to take the opportunity to thank Persistent for partnering with Altech to unlock millions of dollars of working capital financing.  A big thank you also goes to SIMA ANGAZA DFF, who trusted Altech when they had no credit history to prove their ability and willingness to repay loans.